Top cryptocurrency newsletter!
Gold Stock Bull by Jason Hamlin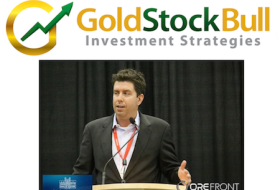 Price: $495
Mr Hamlin provides a market overview, sector analysis and then digs into his top picks in each sector. With a focus on up-and-coming junior miners, his model portfolio does very well when these markets are trending higher. Priced well at $495 for a year. Excellent results with focus on junior mining sector, gold, silver, lithium, uranium, energy. He has also added coverage of cryptocurrencies.
00000
Gold Stock Bull is a highly-rated investment newsletter that started out with a focus on precious metals and junior mining stocks. They now cover cryptocurrencies, cannabis stocks, tech stocks and more, offering investors a diversity of research and tremendous value for the money.
Mr. Hamlin has a background analyzing charts and trends for the world's largest market research company, is versed in fundamental and technical analysis and has consulted to Fortune 500 companies around the globe. Jason is a cycles investor, student of Austrian economics and speaks regularly at investment conferences throughout North America. The Gold Stock Bull newsletter is focused on finding junior mining companies that are undervalued relative to their peers.
The newsletter is very comprehensive.  It starts with an overall view of the stock market, technical analysis of the major indices and monthly updates on various data sets including unemployment, manufacturing, durable goods, consumer confidence, etc.  It also covers insider buying/selling and sentiment indicators.
The stock picks include not just mining stocks, but red-hot cannabis stocks, cryptocurrencies (altcoins other than Bitcoin), biotech, energy and some short plays.
Their model portfolio returned over 330% (according to the newsletter) last year, driven by strong gains in crypto and cannabis stocks. Mr. Hamlin also advocates owning physical gold and silver in your possession and the service includes PDF guides on the best way to buy and hide your metals, leveraging debt in an inflationary environment to buy farm land, the best types of safes to buy, etc.
Trade alerts are sent out weekly with specific trades, prices and rationale for buying and selling.
Overall the value is very good, considering the amount of information available and diversity in stock picks to choose from.  It is also nice that you can trial the service monthly, instead of paying a full year.  However, there is no free trial.
The coupon code GSB20 is reported to give 20% off the normal rates, if it remains active.
Great newsletter for timing and stock selection in gold, silver and energy stocks!
Early into cryptocurrencies and cannabis space, lithium rebound, uranium rebound and precious metals. Highly recommended letter.