Top cryptocurrency newsletter!
Gold Stock Bull by Jason Hamlin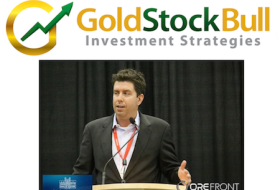 Price: $395
Mr Hamlin provides a market overview, sector analysis and then digs into his top picks in each sector. With a focus on up-and-coming junior miners, his model portfolio does very well when these markets are trending higher. Priced well at $395 for a year. Excellent results with focus on junior mining sector, gold, silver, lithium, uranium, energy. He has also added coverage of cryptocurrencies, which have made huge profits in 2017.
00000
Gold Stock Bull is a highly-rated investment newsletter focused on strategies for profiting in the bull markets in gold, silver, energy and agriculture. The Gold Stock Bull newsletter is focused on finding junior mining companies that are undervalued relative to their peers.
They also cover bitcoin and other cryptocurrencies in their invesment newsletter. If you are looking cryptocurrency picks, research, ICOs and how to invest in bitcion, this is one of the few investment newsletters to cover digital currencies.
Mr. Hamlin has a background analyzing charts and trends for the world's largest market research company, is versed in fundamental and technical analysis and has consulted to Fortune 500 companies around the globe. Jason is a cycles investor, student of Austrian economics and speaks regularly at investment conferences throughout North America. The Gold Stock Bull newsletter is focused on finding junior mining companies that are undervalued relative to their peers.
They claim to have the best gold investment newsletter, here is that pitch: http://goldstockbull.com/best-gold-investment-newsletter/
SNR Review
The newsletter is very comprehensive.  It starts with an overall view of the stock market, technical analysis of the major SP500 index and monthly updates on various data sets including unemployment, manufacturing, Baltic Dry Index, etc.  Consistent focus on the banking sector and impact of debt on nations and on the economic system as a whole.  There are very detailed (full page) write ups and charts for about 10 different companies that the newsletter tracks and another 15 or 20 on their watch list.  Finally the current portfolio, amount in cash reserves and view for the upcoming month.
The writing style makes for an interesting read each month, with some alternative views on what is happening behind the scenes and some political viewpoints that may or may not be of interest to you.
The stock picks include not just mining stocks, but agriculture, biotech, energy and some short plays.
Their model portfolio is up around 5% (according to the newsletter) for the year, after some of the more speculative junior plays were hammered in the six months.  Mr. Hamlin also advocates owning physical gold and silver in your possession and the service includes some slick PDF guides on the best way to buy and hide your metals, leveraging debt in an inflationary environment to buy farm land, the best types of safes to buy, etc.
Email updates detail specific trades, prices and rationale for buying and selling.  They are sent out roughly 2 to 3 times per month.
Overall the value is pretty good, considering the amount of information available and diversity in stock picks to choose from.  It is also nice that you can trial the service monthly, instead of paying a full year.  However, there is no free trial.
Great newsletter for timing and stock selection in gold, silver and energy stocks!
Early into cryptocurrencies and cannabis space, lithium rebound, uranium rebound and precious metals. Highly recommended letter.