Gold and Oil Guy by Chris Vermeulen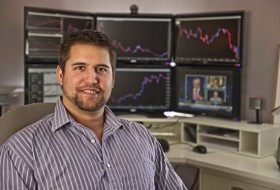 The Gold and Oil Guy newsletter is an unparalleled ETF and Stock Trading Alert Service complete with daily pre-market videos, intraday chart analysis, and my low risk etf trade signals. My strategy is unique, because it provides low risk entry points through the use of crowd psychology, volume analysis, market sentiment, Volatility and chart patterns, eliminating most of the downside risk before taking a position.
This is a comprehensive "look over my shoulder" recommendation service, meaning you get to know the trades I'm actually trading. While placing such trades, I also walk subscribers through the entire process from entry, to the eventual exit, keeping things as simple as possible for even the most novice traders. If you have a question, no problem – send me an email and I will quickly address any of your trading questions.
Chris Vermeulen is the Founder and Chief Technical Analyst of TheGoldAndOilGuy.com. He has more than a decade of extensive experience trading stocks, indices, ETFs, CFDs and Futures. His next-generation trading style has been thoroughly refined over the years, blending the best of all that has come before with the cutting-edge approaches that have only been possible with modern advances in systems and diverse technologies. He believes he represents the ideal combination of both the old and new school trading techniques including pioneering a number of breakthroughs entirely his own.
SNR Review: This service is geared towards traders looking to hold for a few days or few weeks at most. Chris primarily uses popular ETFs as trading tools and focuses heavily on technical analysis to find buy/sell signals. Energy and precious metals tend to be the main sectors covered and I experienced a few winning and few losing trades over the course of my trial subscription. If you like active trading and looking for small percentage gains over short time periods, this service will likely suit you. I gave it a 3-star (average) overall rating.