Warrior Trading with Ross Cameron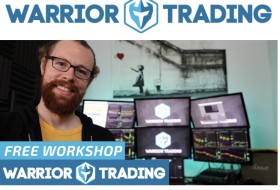 Price: $1,197 / year
Great chat room for active investors!
00000
Warrior Trading is one of the largest communities of active day traders and investors. We provide educational content to over 500,000+ active followers and over 5,000+ premium members growing every single day. In 2016, 2017 and again in 2018, Warrior Trading was nominated in the Benzinga Fintech Awards as Best Educator.
The global trading community has gathered around Warrior Trading because we create profitable traders with a lifestyle of freedom and independence. Regardless of where you are located or what your schedule is, you'll find friends, community, and proven education at Warrior Trading.
We were given a free trial to their chat rooms and here is our take on it…
– They can save you time using stock screeners to identify profitable trades, but tend to focus on momentum trades (top winners of the day).
– Most of the info comes near the market open with little new trade ideas later in the day
– We found it hard to navigate their members' area and find the exact trades they are making each day
– Lots of valuable resources for new investors learning how to trade. Less useful for seasoned investors in our view.
Despite some drawbacks, it is still one of the best chat rooms that we have used. In addition to trade ideas from Ross and the other moderators, you can get ideas from other subscribers in the chat room that you may find valuable. The price is a little steep for new investors with limited funds to invest.
Overall – worth a trial for higher worth investors that are active traders.
Great chat room for active investors