Aden Forecast by Aden Sisters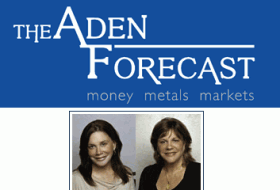 The Aden Forecast is one of the most influential and successful investment publications in the world today. Written and published since 1982 by the internationally renowned market analysts Mary Anne and Pamela Aden, The Aden Forecast is a monthly 12-page investment newsletter specializing in all major markets with special emphasis on the precious metals, currencies, and natural resource markets.
The sisters have been writing The Aden Forecast for over 30 years. It has consistently produced double digit gains in the major investment markets…
A 12 page newsletter each month covering all of the major investment markets with thorough explanations, technical analysis with the Aden's proprietary unique charts and specific recommendations. You'll know which markets are best to invest in and why, as well as which markets to avoid and why. The Aden Forecast also provides a world overview and how events will affect the markets.
Concise, specific weekly updates to keep you abreast of what's new in the markets in between your monthly issues, including actions to take if any and what to be watching for.
Between the two Aden sisters, you'll benefit from nearly 60 years of combined investment experience.
Access to the best charts and leading indicators in the business, covering all of the major markets.
Excellent and prompt customer service.
Money management if desired.
SNR Review:  The weekly updates are brief but insightful, covering macroeconomic views in 5 to 10 paragraphs. The bulk of the value comes from the monthly newsletter, which is roughly 12 pages packed with excellent charts and analysis to back up their views on the markets. They cover a number of currencies, stocks indices, bond rates, with a focus on precious metals and energy. I like how the charts go back 10, 20 or more years, reveling important long term trends.
The Aden Forecast model portfolio is focused on major ETFs and a few of the large cap mining companies. It does not contain any junior resource stocks, high risk/reward plays or technical analysis on individual stocks. It is a well-written newsletter overall and would be suitable for more conservative investors looking to get exposure to precious metals. However, investors looking for earlier stage junior mining stocks may want to look elsewhere.