Quality slipped after Stansberry acquisition
Big Gold by Jeff Clark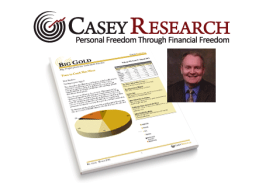 Price: $149
Used to be one of the best gold newsletters, but the quality appears to have slipped after Stansberry bought out Casey Research. I see Jeff writing articles for Mike Maloney these days. Newsletter is focused on the bigger gold companies if that is your cup of tea.
00000
BIG GOLD makes it simple, with an easy-to-maintain portfolio of mid- to large-cap precious metals producers and related ETFs, mutual funds, physical gold and silver, and more.  BIG GOLD's purpose is to help you build and maintain a diverse portfolio of gold, silver, and related investments, including:
Physical metal in the form of coins or bars.
Shares or certificates that represent ownership of a fixed amount of physical metal, including ETFs, Perth Mint Certificates, and more.
Stocks of individual companies that mine or explore for precious metals.
Mutual funds that invest in a wide variety of precious metal companies.
BIG GOLD's recommendations are always made with both profitability and low risk in mind. BIG GOLD subscribers want to keep their money secure while making it grow — and that's exactly what we help them do.  If you don't find BIG GOLD to be everything you hoped it would be — well researched, clear and concise, and highly profitable — simply cancel at any time in the first 90 days for a 100% refund… no questions asked. And you can cancel at any time after three months for a prorated refund.
Editor – Jeff Clark
Making money in the precious metals industry — both for himself and his subscribers — is what drives Jeff. He is constantly researching companies to recommend, analyzing the big trends in metals, and looking for safe and profitable ways to capitalize on the gold and silver bull market. He puts his money where his mouth is, and is completely committed to making BIG GOLD the best precious metals advisory for the prudent investor.
SNR Review:  Awaiting copy of newsletter to review.