Timely, high-level economic news and big name stocks
Real Wealth Report by Larry Edelson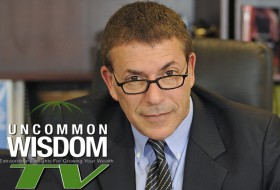 Real Wealth Report's primary mission is to provide investors with 100% independent research and in-depth analysis needed to maximize profits in hard assets, including gold bullion, gold stocks, and other precious metals and natural resources investments.
Unlike "hard asset" newsletters, Real Wealth Report has no political agenda of any kind whatsoever. Real Wealth Report has only one mission: To make YOU money … gobs of it! And to Larry Edelson, Editor of Real Wealth Report, gold and other natural resource investments are the best means to that end.
Through his Real Wealth Report, Larry will be your personal globe-trotting analyst — bringing you unbiased profit opportunities wherever he finds them! He'll scour the far corners of the world for new ways to make you money. He'll actually visit mining companies, oil and gas drillers, and agricultural producers — all to help you pull huge profit potential out of the ground. With every issue you can count on getting …
Unambiguous, no-nonsense, totally unbiased "Buy," "Sell," and "Hold" signals for every investment in your Real Wealth portfolio: You'll never see bias creep into Larry's advice, and you'll never be left wondering what to do next.
Breaking news on geopolitical developments that will have a dramatic impact on your precious metals and other investments: You can depend on Real Wealth Report to bring you crucial, up-to-the-minute intelligence from the world's hot spots … on the new Shanghai commodities exchange … on the Islamic dinar … on how worldwide terrorist activities and the war in the Middle East will affect the price of gold and other natural resources.
PLUS, you get answers to your most pressing questions: In every issue, Real Wealth Report answers your questions and concerns about silver, platinum, palladium, and gold … energy and natural resources … capital preservation … what investments to own NOW … when to buy and sell … what dangers and pitfalls to look out for … and much more.
24-hour access to the Real Wealth Report Web site.
Plus, urgent Flash Alerts via e-mail as events happen and action is needed on your part. These lightning-fast alerts give you the edge you need to help keep your money safe and maximize your profits!