Gold Stock Trades by Jeb Handwerger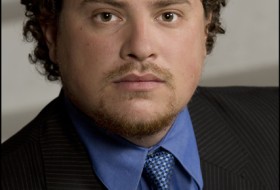 Gold Stock Trades Editor Jeb Handwerger is a highly sought-after stock analyst and best selling writer syndicated internationally and known throughout the financial industry for his accurate, in depth and timely analysis of the general markets, particularly as they relate to the precious metals, nuclear and rare earth sector. Jeb utilizes both fundamental and technical analysis, especially the study of price volume action to understand the long term macroeconomic trends in the natural resource market. A true renaissance man Jeb has a strong background in stock market history, investment psychology, geopolitics, mining engineering and economics.
Jeb studied engineering and mathematics and received his undergraduate degree from University of Buffalo and a Masters Degree at Nova Southeastern University. Teaching technical analysis to professionals in South Florida for over 7 years, Jeb began a daily newsletter which grew to include thousands of readers from over 40 nations such as China, India, Singapore, Malaysia, Thailand amongst many others who are interested in the North American Resource Market.
1) Low Risk Entry and Exit Points Using Technical Analysis

Subscribers will get daily recommendations and commentary which contain a buy point, a profit target and a stop loss to prevent a substantial loss. This greatly increases the probability of a profitable trade. Having a trading strategy mapped out in advance removes emotions and optimizes the profit potential on every trade.
Entry conditions must meet specific proprietary technical criteria which I will signal to subscribers.
2) Evening Updates

Commentary will be posted after market close which will give subscribers "a heads up" on stocks with exceptional breakouts and general market timing which will let subscribers be aware of the trend of the market and what to expect the next trading day.
I do not act on any trades without having my subscribers get the information first. This means that the next day you have the same ability as me to enter the trade.
Get an edge over the average trader with specific recommendations which are demonstrating exceptional strength and volume. It takes many hours to screen charts to find the best stock patterns.
Instead of you putting in all the hours of research and analysis, I will find the top 5 recommendations and email them to you. You will have the chart with a buy point, sell point and stop loss indicated. In our recommended portfolio we will be following our top 5 picks and immediately cut laggards.
Updates will give readers the ability to be led to high performing and highly probable stock picks that are ready to make major moves.
3) Sunday Evening Update

This update will be more comprehensive of weekly and long term trends. I will show subscribers how I use different methods of charting to determine long term trends and stocks under major accumulation which is a signal of a market move.
4) Proprietary Trend, Relative Strength and Momentum Indicators Analysis & Screening

Save yourself hours and hours of tedious research. These proven technical strategies will identify the leading winners in the market and will lead you to the best investment opportunities.
5) Track Record of Proven Gains

Proven ability to find the leading stocks of the year which helps the average investor have the vision that an experienced technician sees. Four out of 7 recommendations have been up over a 100%. Since I created my FREE Newsletter, 4 stocks had triple-digit gains: UXG, GMO, TGB, and NGD. There were a few losers, but with gains like this and recommended stops to subscribers, the major gains of 4 will certainly make up for a few 5% losses.
6) Meticulous Money Management with Recommended Stop Losses

This allows you to stick to only the leading and strongest stocks. Price violations and stocks which are stalling will be quickly weeded out. This allows the subscriber to grow profits while limitling losses. Profits are permitted to run and losses are quickly cut.
7) Long and Short Recommendations

One of the few services that go both long and short. This allows a subscriber to make money in both an up and down market. If a subscriber can not go short they can move into cash for the duration of the downtrend so they can maintain their cash position and be in a stronger position to buy stocks when the market turns
8) Ongoing Stock Market Analysis Education

Use of videos to show technical strategies and rationale. Subscribers gain confidence and knowledge from an experienced trader who will show you the intricacies and common mistakes many traders make.
9) Structured Trades

Eliminate emotions with a disciplined strategy. Know in advance what the buy and sell points are, where to place stop-loss orders and how much profit exists with each trade
Jeb accepts "sponsorship" from miners to his newsletter, so there is a conflict of interest. Otherwise nice analysis.