Solid newsletter, quality research, fairly priced
Zeal Intelligence by Adam Hamilton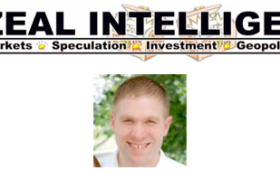 Price: $149
Adam knows the gold sector, is versed in fundamental and technical research and provides excellent timing and stock picks. Down to earth delivery, creative writing that is long-winded at times, but worth the price of admission.
00000
Thriving in the stock markets is not a happy accident. Investing success demands a great deal of hard work, discipline, diligence, wisdom, and experience. As hardcore students of the markets, at Zeal we've devoted our professional lives to achieving this. All our endless research ultimately feeds our flagship product, the widely-acclaimed Zeal Intelligence monthly newsletter. For over a decade it has helped investors better understand the capricious markets, identify and seize trading opportunities, and accelerate their wealth-building.
Back in 2000 our research called the next superbull in commodities, and we have been multiplying our fortunes and our subscribers' in commodities stocks ever since. For over a decade our trading track record has been outstanding, and keeps improving as our knowledge grows. Every month our latest elite fundamental, technical, and sentimental research and analysis is deftly woven together into actionable high-probability-for-success trades. Our long-time subscribers praise us for all they've learned and the fortunes we've helped them amass.  You'll learn how to read the markets and sectors, time trades, and control your own dangerous greed and fear. As your confidence grows, so will your realized profits.
Zeal LLC was founded in early 2000 as a pro-free market, pro-capitalism, and pro-laissez faire contrarian investing and speculating Information Age financial-services company.  Our principals are lifelong contrarian students of the markets who live for studying and trading them.  We employ innovative cutting-edge technical analysis as well as deep fundamental analysis to inform and educate our subscribers on how to grow and protect their capital through all market conditions.  We have an unquenchable zeal for the markets.
We have grown particularly renowned for our totally distinctive charts. Our world-famous analysts at Zeal Research are elite technical chartists who provide an utterly unique style, crystal-clear presentation, and compelling logic unlike anything else out there.
Our subscription-based newsletter services have been blessed with subscribers in all 50 states of the Union and more than 55 countries worldwide.  Our popular weekly market-analysis essays are published and linked to from many other well-respected websites and publications globally, generating enormous Web traffic and exceptional international interest across the Internet.
Our Mission Statement: "To zealously provide our valued clients with world-class financial information services.  To research, analyze, and explore financial-market trends in order to uncover stellar investment and speculation opportunities for our clients.  To deliver these services with honor and integrity."
Subscription price reduced to $119 for 12 months. Bargain price for this quality letter for gold investors.