The Morgan Report by David Morgan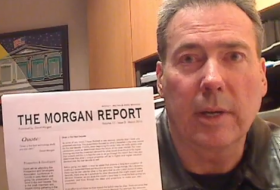 David Morgan started investing in the stock market while still a teenager. A precious metals aficionado armed with degrees in finance and economics as well as engineering, he created the Silver-Investor.com website and originated The Morgan Report, a monthly that covers economic news, overall financial health of the global economy, currency problems ahead and reasons for investing in precious metals.
David considers himself a big-picture macroeconomist whose main job as education—educating people about honest money and the benefits of a sound financial system—and his second job as teaching people to be patient and have conviction in their investment holdings.
We go to great lengths to bring you the very best newsletter in the entire precious metals arena. Our members only section contains, The Morgan Report– a monthly service.  Additionally we have videos, audios, webinars, special updates, alerts, mining company reports, bonus materials and discounts for members. You'll also get to use The Morgan Report Alert System if you are a basic plus member and above.  Once sign up is complete you receive immediate access to the members-only area of our web site.
Added $997 per year "Mastermind" subscription level. His stock picks are doing better in 2017.