Good for Swing Traders
Jason Bond Picks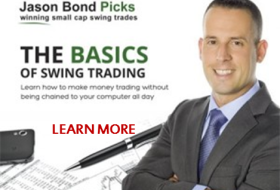 Price: $999/year
Swing trading strategies across all sectors.
00000
Focusing mostly on small-caps and penny stocks, JasonBondPicks.com is a subscription-based trade alerts service that also markets training programs.
Designed for greedy, trigger-happy traders and working professionals with access to a computer or smart phone looking for profitable long-term and swing trading opportunities. Whether you're a trigger-happy trader looking for great profit opportunities, or a busy working professional who wants to lock in steady weekly gains without being chained to a computer all day… my proven, market-tested system will quickly put you on the "fast track" to becoming a winning stock trader!
Get up to 10 trade alerts per week via text & email.
Prefer to make your trades at a slower pace?
If you're a busy professional looking to make a few trades a week to grow your net worth, or improve your quality of life, then Jason Bond Picks is perfectly tailored to fit your needs and goals.
Full access to education suite…
One of the best investments you can possibly make as a trader is in your ongoing education and training when it comes to choosing the best stocks to buy, sell or hold in your portfolio for quick profits, or longer-term gains. That's why we provide our members with unlimited 24-hour access to our highly-acclaimed education suite chock full of videos and other valuable content you can immediately start using to become a more successful trader and investor.
PROS
Tons of trade ideas throughout the day
Effective day trade stock scanner stream in chatroom
Large video library of trading lessons
Stable chatroom software connection
Large chatroom is well organized with strict moderation
The winning alerts can generate large percentage gains quickly
Lots of ideas throughout the day in the chatroom and newsletter
CONS
Pricing for all-inclusive Millionaire Roadmap program too expensive
Constantly up-selling of MR program
Risky penny stocks can leave you holding the bag when momentum vanishes
Lack of itemized daily trades showing both winners and losers
No trial period to test out the service
Lots of noise in the chatroom at times
Overhyped, but lots of good trading ideas in the service.
Too much focus on marketing and not enough on investment research