Palm Beach Research Group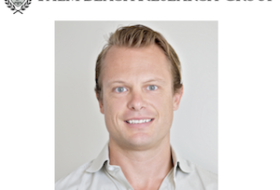 Price: $199 to $3,000
00000
The Palm Beach Research Group is an independent financial publishing company based in Delray Beach, Florida. It publishes various advisories that provide stock, options, and income recommendations—as well as non-market wealth-building advice—to more than 234,000 subscribers.
When founders Mark Ford and Tom Dyson launched Palm Beach Research Group in 2011, they wanted to create a publishing company unlike any other.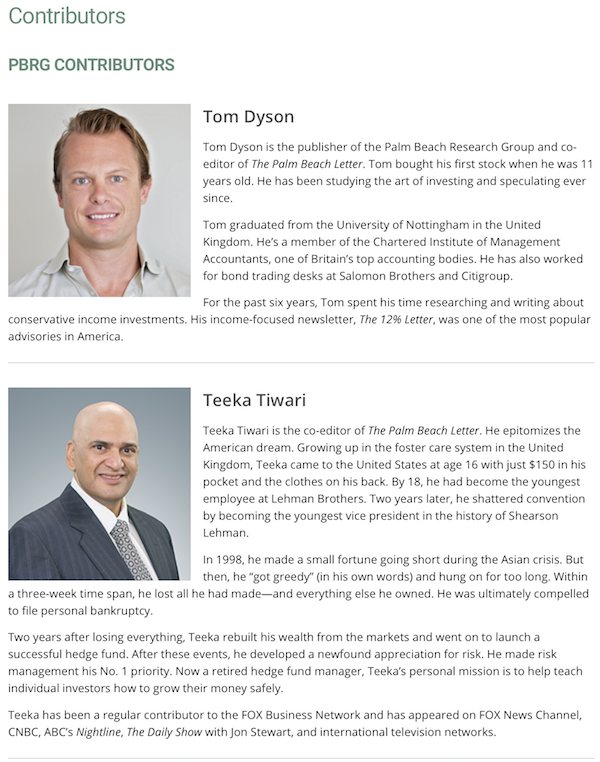 Most financial advisories are little more than stock "tip sheets." Mark and Tom had a different vision for their company. They wanted to provide subscribers a comprehensive wealth-building plan; one that would guide readers along the path to real, sustained financial prosperity.
To this end, Mark and Tom focused the Palm Beach Research Group on three key areas… safe income, safe growth, and comprehensive 360-degree wealth building.
Specifically, they've combined Tom's experience in the financial markets with Mark's success as a serial entrepreneur and real estate investor to achieve their goal—a holistic, wealth-building publishing company.
Services now include:
Stock market investments (long-term and trading)
Cash-generating options strategies
Rental real estate investing strategies
"Outside the market" ideas for generating additional active income
Credit repair strategies
Entrepreneurial guidelines on starting your own business
Retirement lifestyle guidelines.
The Palm Beach Letter
The Palm Beach Letter is our flagship investment advisory. It's based on proven wealth-building strategies of New York Times best-selling author and multimillionaire entrepreneur Mark Ford, and the financial market expertise of Tom Dyson. This advisory teaches you how to generate new streams of active income, then invest it wisely using low-risk strategies to build and sustain your wealth. Each month, a team of analysts recommends the safest and most profitable investment ideas in the world under one single rule: Never lose money. Meanwhile, as you invest in the markets, Mark will show you "outside-the-market" wealth building strategies through his own complementary essay series called, Creating Wealth.
Price: $199
Income for Life Premium
Income for Life Premium is a unique strategy that teaches readers about a specific type of whole life insurance contract. Income for Life offers a safe harbor for your cash that grows at guaranteed rates up to 5% each year. While your cash grows, you'll learn how to use policy loans… one of the most powerful components of this strategy. This program includes monthly webinars, essays, and training tools to teach readers exactly how to set these accounts up the right way. It also includes webinars highlighting how to finance your cars, house, college expenses or investments through Income for Life. You'll never have to deal with a bank again.
Price: $3,000
Extra Income Project
Extra Income Project is an entrepreneurial essay series, co-authored by New York Times best-selling author and multimillionaire Mark Ford, and professional freelance copywriter and direct marketing specialist Bob Bly. Mark and Bob show you how to generate extra cash—as much as $50-500 per hour or more—through 24 different entrepreneurial activities outside the stock market. Each income project requires as little as one hour per day—and you can do it all from the comfort of your own home. There are no special, pre-existing skills required. With the Extra Income Project, readers receive a monthly essay and a 30-day "launch protocol." The opportunities include such ideas as: The Secret to Turning Your Favorite Hobby into an Extra $4,000 per Month; How My Golf Buddies Make $75,000 Per Year In Rental Real Estate Without Investing a Nickel; and Know Something About Anything? How to Earn $9,800 By Talking About It. If you need to generate additional income fast, this is the program for you.
Price: $895
Palm Beach Income Trading Advisory
In the Palm Beach Income Trading Advisory, Tom and his analysts provide options trade recommendations. These trades generate average annualized returns of roughly 14%. Our service walks you through new recommended trades, providing you all necessary details and analyses. Tom and his team explicitly guide you every step of the way from the trade's open to its close. To date, we've successfully profited from 97% of our recommended trades since launching the service.
Price: $3,000
Palm Beach Income Educational Course
The Palm Beach Income Educational Course teaches subscribers one of the best, safest ways to earn income from the options market. It begins with a six-part webinar series consisting of lessons, trade simulations, downloadable supplements, and homework assignments. It wraps up with a post-course exam that prepares you to trade live. We designed the course to give beginners the knowledge and skills to trade options with confidence. This course is included with the Palm Beach Income Trading Advisory.
C.A.P. Cash Flow
C.A.P. Cash Flow is a "masters" level rental real estate course taught by expert Justin Ford. Even if you have no prior real estate experience, this program will you teach you how to add six (or even seven) figures to your portfolio and thousands of dollars in passive income every month. C.A.P. consists of six live training webinars with Justin, rare access to Justin's actual projects, and a multitude of lecture material, sample documents, and contracts.
Price: $3,000
The Wealth Builders Club
The Wealth Builders Club is a service for the "not yet wealthy." We created it so subscribers could learn step-by-step—alongside multi-millionaire Mark Ford—how to become wealthy in fewer than seven years. The Club features multiple essay series and programs, including: The Extra Income Project, a unique program designed to help you create a second or third  income stream through 24 easy-to-do opportunities; Rental Real Estate 101, an introductory course in real estate investing; Retire Next Year, a guideline for how to retire in paradise for far less than you'd ever expect; How to Start a Million-Dollar Business for $25,000, which are Mark's best ideas on entrepreneurship from more than 2,500 essays and his six best-selling books; and Living Rich/Rich Mind, which explores how to "live richly" on the income you already have. Combined, it is the most comprehensive wealth-building program in the world.
Price: $3,000
Legacy Portfolio
The Legacy Portfolio is the safest, highest-yielding investment service we offer at the Palm Beach Research Group. It consists of over a dozen blue chip stocks—each one thoroughly vetted and established as one of the strongest, safest, most elite companies in the world. This long-term investment strategy is the easiest way for you to accumulate huge returns over the years—potentially millions of dollars in time for retirement. Our proprietary Accelerated Accumulation Technique (for dividend reinvestment) further amplifies your long-term returns. We built this service with one goal in mind: to provide you a way to generate a "legacy" of wealth, either for retirement or for passing along to your loved ones.
Price: $3,000
Palm Beach Confidential
Palm Beach Confidential is a subscription service in which we share picks that have the same criteria as other Palm Beach Research Group publications, but focus on smaller companies to generate higher returns. Most of these companies have market caps of less than $1 billion. For this reason, PBRG Co-founder Tom Dyson and Editor Teeka Tiwari previously reserved these plays for their family and closest friends. But with the creation of Palm Beach Confidential, and thanks to its limited membership, we can now deliver these plays to you. In other words, you can now consider yourself part of our "inner circle" and one of our confidantes.
Price: $3,000
Each service supports the central mission of the Palm Beach Research Group: Help Readers Get Richer Every Year.
Good research, but overhyped, pushy marketing, riding on cryptocurrency gains that were available to anyone.