Overpriced Newsletter Built on Hyped-Up Promises
Jim Rickards Gold Speculator with Byron King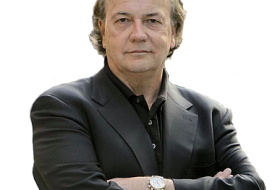 Price: $3,000 per year
The "discounted" rate fo $2,000 for a year subscription is higher than most gold newsletters, but Jim Rickards is well known in the industry. They recently teased Pretium Resources (PVG) as God's Gold stock that could return over 5,000%. They called it an urgent buy, which seems a little far fetched for such a well known major with a $1.5B market cap.
00000
This is an investment newsletter from Agora Financial featuring Jim Rickards with geologist Byron King lending his expertise as editor.
Here's what you get when you agree to a charter membership:
Instant Access to The "MIDAS" Allocated Portfolio: How To Make Life-Changing Wealth As Gold Goes to $10,000 – You'll receive the ticker symbol of this "God's Gold" company plus our list of 14 additional handpicked "Junior Gold" plays. Not to mention, you'll also get another level of service — including recommendations on what to buy and what quantities to buy. It's a fully allocated model portfolio.
Full Access to Upcoming "MIDAS" System Recommendations – Each month my geologist and I will send you a brand-new monthly recommendation from our MIDAS system. This system is the most powerful strategy you'll find in gold. And it's your chance to keep multiplying your gains as gold heads higher..
Weekly Gold Market Updates – You'll stay ahead of the gold market news cycle with weekly email updates. If there's an important story that affects the bullion or mining industry, we'll give you the inside scoop.
FULL-list Model Portfolio Updates– • Each week, we'll also be sure to send you a FULL update on our "MIDS Allocated Portfolio."
FREE Subscription to the Special Executive Series Newsletter 5 Min. Forecast
FREE Subscription to The Daily Reckoning
Free Unadvertised Bonus – America Uncensored – each day you'll receive real news the mainstream media and our government officials rather you not hear. Hard hitting, reality-check news and advice about the economy, retirement planning and investing, alternative health & lifestyle and even survival tips.
Combined, this full suite of benefits will keep you at the "top of the champagne tower" – right where you belong.
But you'll also receive this very special bonus…
A Valuable "G-series" Gold Coin – I'd like to mail you a gold coin. This type of fine gold coin has the ability to skyrocket in value as gold heads higher. I'm talking about real (not plated) hold-in-your-hands gold. And it's yours absolutely FREE.
A Harvard-trained geologist and former aide to the United States Chief of Naval Operations, Byron King is our resident gold and mining expert, and we are proud to have him on board as the editor of Rickards' Gold Speculator and a contributor to Rickards' Strategic Intelligence.
Good service, but steep price